Orlando, FL, Oct 12, 2023 – (ACN Newswire via SeaPRwire.com) – HostDime's Tier IV Data Centers, including their new flagship facility in Orlando, are setting industry design standards that will power the new era of infrastructure needed for artificial intelligence (AI), Machine Learning (ML) technologies, and other high-performance computing (HPC) workloads. These next-gen data centers boast an astonishing power density of up to 100kW per rack, a significant leap from the traditional 3kW to 20kW in legacy data centers.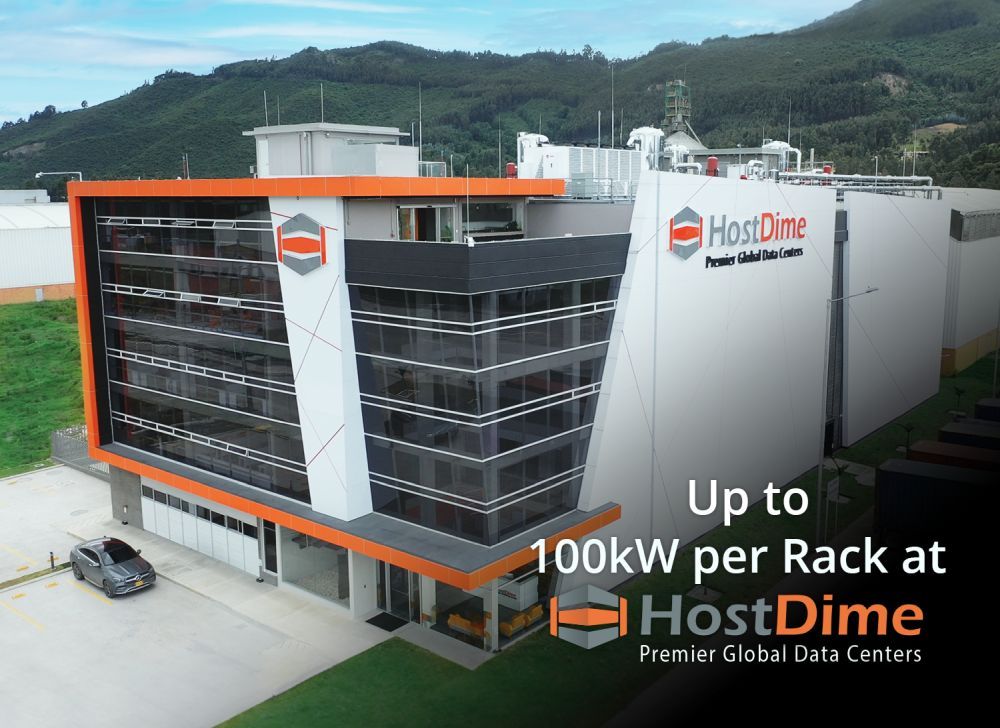 AI has transcended its status as a buzzword and has quickly become a transformative force across industries. For AI to achieve its potential, it requires massive computational power. Complex neural networks and deep learning algorithms require specialized high-performance hardware, including CPUs, GPUs, and TPUs, optimized for parallel processing, complex modeling, and accelerated training. Suddenly the industry as a whole is rethinking how data centers are designed. A new generation of purpose-built data centers is the only way to power this new wave of hardware infrastructure.
Addressing this need head-on, ahead of the market, is HostDime's hyper-edge, Tier IV data center design, which is being deployed at the global edge with immediate deployments in Latin America (most recently in Colombia) and at their flagship facility in Florida. HostDime's leap to up to 100kW signifies a remarkable advancement that directly addresses the energy demands of AI/ML/HPC workloads. This state-of-the-art Orlando data center brings to market much-needed high-power-density inventory while reducing dependency on data center infrastructures in traditional major metro markets that are struggling to keep up with demand. This infrastructure demand is also being seen at the global edge where HostDime will continue to deploy its next-gen, Tier IV design.
HostDime's modular design incorporates a high watt-per-square-foot density along with supplemental in-row cooling capabilities that work in parallel with direct-to-chip cooling technologies. The design also incorporates precise cooling-efficient cold aisle containment at every data hall. HostDime's flagship Orlando data center also has designated data halls created specifically for immersive cooling hardware. Immersive cooling is widely becoming a necessity in the new wave of data center build-outs. All these features are at the forefront of HostDime's data center design.
HostDime's commitment to building the next generation of purpose-built data centers is embodied by their standard Tier IV design – the pinnacle of reliability. This designation signifies fault tolerance and redundancy at every level, allowing HostDime to offer 100% uptime SLAs. Such data center infrastructure is imperative for supporting critical AI workloads that require uninterrupted availability to perform mission-critical tasks.
As AI continues to reshape businesses as we know it, the role of data centers cannot be overstated. The new Central Florida data center, which will be commissioned in Q1 2024, is poised to meet the skyrocketing demands of the AI revolution. The future is AI-powered, and HostDime's global edge data centers are the gateway to that future.
About HostDime:
HostDime is a hyper-edge global data center company operating our owned, purpose-built data center facilities in Mexico, Brazil, Colombia, and our flagship facility in Florida, USA, and with owned networks in the UK, India, and Hong Kong. Our mission is to design, build, and operate purpose-built, next-gen data center facilities at the global edge.
We offer an array of core digital infrastructure products and services, including colocation (private data center suites, cages, racks), interconnection (cross-connects, peering, transit), Hardware-as-a-Service (bare metal servers, lease-to-own servers, hardware procurement), cloud infrastructure (private, hybrid, multi-cloud), and managed services (server management, remote hands, smart hands).
Contact Information
Jared Smith, Director of Marketing, jared.s@hostdime.com 386-341-0855
Related Images
https://cdn.newswire.com/files/x/d7/15/b99a8315ed19ebb218ea7114d00f.png
https://cdn.newswire.com/files/x/9c/cc/f2017995382d82f0406727d34eff.png
https://cdn.newswire.com/files/x/fe/c5/763ad0d91553e42e2b63638cda10.png
Copyright 2023 ACN Newswire via SeaPRwire.com.