KUCHING, MALAYSIA, Oct 6, 2023 – (ACN Newswire via SeaPRwire.com) – At the 27th World Congress on Innovation and Technology (WCIT) and the 6th International Digital Economy Conference Sarawak (IDECS) 2023, collectively known as WCIT|IDECS 2023 (the "Event"), the Sarawak Government reaffirms its steadfast commitment to investing in innovation and technology to pave the way for Sarawak's transformation from a traditional economy to a modern technology-driven powerhouse.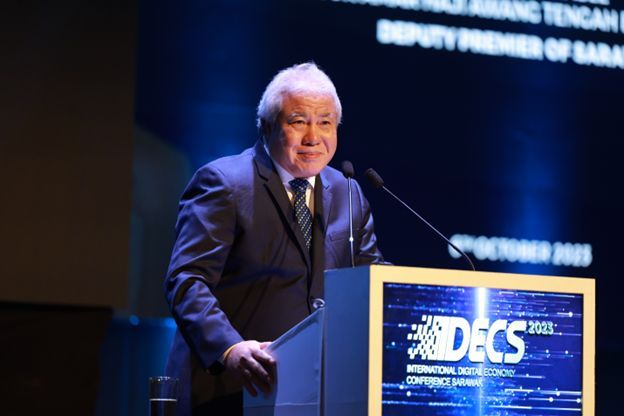 Held on 4 to 6 October 2023, WCIT|IDECS 2023 reached a triumphant conclusion today after three days of groundbreaking discussions, visionary insights, and unprecedented networking opportunities. The Event, which saw the attendance of more than 10,000 attendees from 46 countries worldwide, brought together global leaders, tech pioneers, and innovators to explore the limitless potential of innovation and technology. In addition, the inaugural She-Tech Asia Forum 2023 served as a compelling prelude to WCIT|IDECS 2023, setting the stage for more women empowerment and representation in the field of technology.
Yang Berhormat (YB) Datuk Amar Haji Awang Tengah bin Ali Hasan, Deputy Premier of Sarawak delivered a resounding conclusion to the event, "WCIT|IDECS 2023 has illuminated our path towards a future where innovation and technology are the driving forces behind Sarawak's economic growth and prosperity. Our commitment remains steadfast as we transition from tradition to modernity. Many of these ideas shared over the past few days at WCIT|IDECS 2023 will come to shape Sarawak's journey forward, building on the state's current trajectory to becoming not only a digital economic powerhouse in the region, but a thriving society driven by innovation and technology where our people can enjoy economic prosperity, social inclusivity, and a sustainable environment."
Sarawak made headlines on the very first day of the event with the official announcement of the Sarawak Digital Economy Blueprint 2030, outlining an ambitious vision for the future of the region. This visionary blueprint underscores Sarawak's dedication to harnessing the power of digital technology to drive economic growth, create job opportunities, and improve the quality of life for its citizens.
YB Datuk Amar Haji Awang Tengah added, "The Sarawak Digital Economy Blueprint 2030 is a culmination of Sarawak's concerted efforts over the past decade to transform our economy. It is our strategic roadmap to create positive impact and empower our people, and position Sarawak as an attractive investment, business and tourism destination at the international level."
WCIT|IDECS 2023 marked the first-ever union of two leading global events in technology and innovation. The convergence of both WCIT and IDECS, which are prominent events in their own rights, aimed to address key issues relevant to our time and our tomorrows as well as tackling the challenges and opportunities presented by the ever-evolving digital age.
Dr Sean Seah, Chairman of World Innovation, Technology and Services Alliance (WITSA) said, "We firmly believe the partnerships, collaborative connections as well as debate and discussions on tech in general, and AI in particular, that have emerged from WITSA's catalytic platform will pave the way for a brighter, more inclusive digital future. This pivotal success stands as a testament to what can be achieved when governments, industry leaders, and communities come together with a shared vision."
Host association PIKOM Chairman Ong Chin Seong said, "After 3 days of packed content and activities, WCIT|IDECS 2023 certainly left us with things to ponder in this age of transformation. The future of technology is not about predicting what will happen, but about creating what we want to happen and realizing its full potential. Our delegates certainly benefited from the event, and we look forward to WCIT 2024. Congratulations again to the Sarawak Government, especially to the WCIT|SDEC 2023 Secretariat led by SDEC. We are delighted to partner with the state in this endeavor."
WCIT|IDECS 2023 also marked a momentous occasion with the announcement and official handover of WCIT to the new host city of 2024, Armenia, ushering in another chapter of global innovation collaboration.
Copyright 2023 ACN Newswire via SeaPRwire.com.