JAKARTA, Oct 23, 2023 – (ACN Newswire via SeaPRwire.com) – Indonesia, one of the rising economies in the Asia Pacific region, continues to attract global attention with its digital transformation journey. In recent years, the country has witnessed seismic growth with the seamless integration of emerging technologies like artificial intelligence, blockchain-based solutions, cloud computing, cybersecurity solutions and more.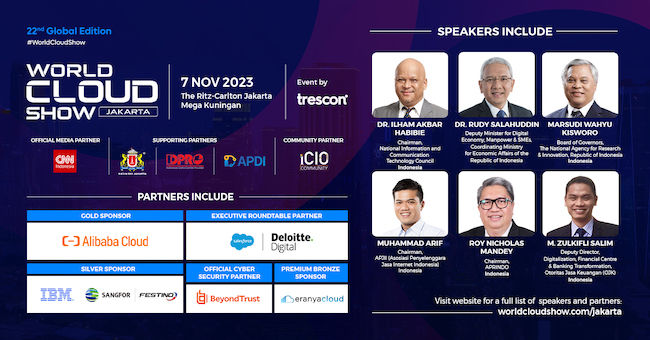 The 22nd edition of the World Cloud Show, organised by Trescon, is a one-of-a-kind platform that will showcase some of the transformative solutions and innovations that are having a major effect in the regional business landscape. This thought leadership-driven platform will serve as a key catalyst for innovators to network with leading titans and C-level decision- makers from the cloud computing domain.
As Indonesia is becoming the fastest-growing cloud market, the presence of international giants like Microsoft, Google, Alibaba, and Amazon Web Services further assists innovators and entrepreneurs extensively by understanding key trends and aiding them in their cloud migration journey. Cloud computing and data center solutions are set to play a central role in Indonesia's digital transformation journey. According to a Mordor Intelligence report, Indonesia's data centre market was worth US$ 1.67 billion in 2022 and is projected to be worth US$ 3.43 billion by 2027 (growing at a CAGR of 13.15 per cent from 2022 to 2027).
The events taking place in Indonesia further solidifies its position as a global forum for global thought leaders, industry experts, cloud computing innovators and experts to converge and explore new-gen solutions. Attendees will be able to gain valuable and actionable insights through engaging keynote presentations, enterprise use-case presentations, panel discussions and interactive tech talks.
Notable speakers attending the event include:
Dr. Ilham Akbar Habibie, Chairman, National Information and Communication TechnologyCouncil
Dr. Rudy Salahuddin, Deputy Minister for Digital Economy, Manpower and SMEs, Coordinating Ministry For Economic Affairs Of The Republic Of Indonesia
Muhammad Arif, Chairman, Apjii (Asosiasi Penyelenggara Jasa Internet Indonesia)
Roy Nicholas Mandey, Chairman, Aprindo Indonesia
M. Zulkifli Salim, Deputy Director, Digitalization, Financial Centre & Banking Transformation, Otoritas Jasa Keuangan (OJK)
Marsudi Wahyu Kisworo, Board of Governors, The National Agency for Research and Innovation, Republic of Indonesia
Wilbertus Darmadi, CIO, Toyota Astra Motor
Edwin Sugianto, COO & CMO, AXA Insurance Indonesia
James Elwes, Operations and IT Director (COO), HSBC Indonesia
Nicholas Tay, Chief Technology Officer, Sangfor Technologies
Andang Nugroho, President, ISC2 Jakarta Chapter
Erick Hadi, Founder at Nusantara Academy, Head of Talent Development and Industry Certification, IDPRO
Samuel Mulyono, Cyber, Data Protection and Product Risk Assurance Group Head, PT Bank Nationalnobu Tbk (NobuBank)
Naveen Bharadwaj, CEO of Trescon, expressing his enthusiasm about the event said," The convergence of the top tech veterans and cloud experts at the World Cloud Show creates a unique opportunity for Indonesia's digital future. We are proud to create a blend of innovative, collaborative, and transformative platforms that empower the innovators of today to become the leaders of tomorrow"
So save the date and join us as we script a new chapter in Indonesia's digital transformation journey. To know more about the World Cloud Show
visit: https://www.worldcloudshow.com/
The 22nd edition of the World Cloud Show is supported by:
About Trescon
Trescon is a pioneering force in the global business events and services sector, driving the adoption of emerging technologies while promoting sustainability and inclusive leadership. With a deep understanding of the realities and requirements of the growth markets we operate in – we strive to deliver innovative and high-quality business platforms for our clients.
For further details about the announcement, please contact:
Nupur Aswani
Director – Global PR and Partnerships, Trescon
+91 95559 15156 | media@tresconglobal.com
Copyright 2023 ACN Newswire via SeaPRwire.com.