RIYADH & TOKYO, Oct 18, 2023 – (JCN Newswire via SeaPRwire.com) – Saudi Tourism Authority (STA) and JCB International Co., Ltd. (JCB) have reached a historic agreement aimed at boosting tourism in Saudi among JCB cardmembers globally. The Memorandum of Understanding (MoU) was signed on 15 October 2023 and signifies a significant milestone in collaboration between the two entities.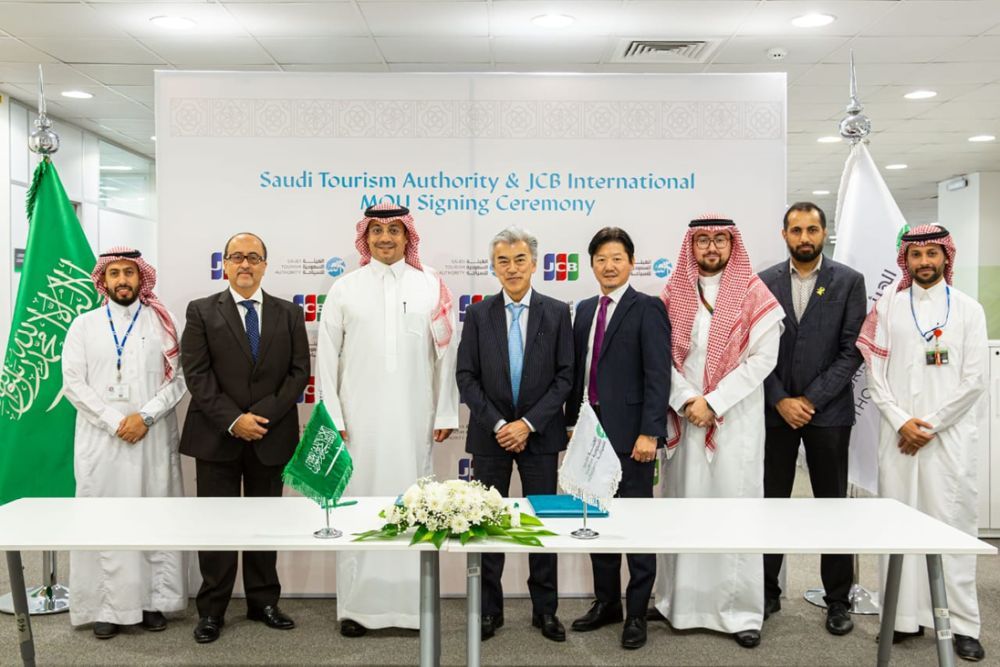 Alhasan Aldabbagh, President of Asia Pacific Markets at Saudi Tourism Authority (STA), said: "We are thrilled to partner with JCB International, a global leader in payment and technology. This is a great opportunity for our tourism industry, as it will offer more convenience, familiarity, and security for Japanese travelers and other Asian tourists who prefer to use cashless payment methods. We believe this collaboration will enhance the appeal of Saudi as a destination for international visitors and support our vision of becoming a leading global tourism hub."
The partnership with JCB is anticipated to unlock various opportunities for cooperation between Saudi and Japan. Notably, Japan is one of the 57 countries eligible for Saudi's e-visa and visa on arrival, with special benefits such as a free one-night hotel stay for tourists flying onwards on SAUDIA as part of Saudi's 96-hour Stopover Visa program.
Other key initiatives include VisitSaudi.ja portal in Japanese and joint marketing campaigns with leading travel trade partners to create excitement all year round. Japanese holidaymakers can also take advantage of special hotel offers from local Destination Management Companies (DMC), with attractive deals inviting them to discover the true home of Arabia on their terms.
Mr. Yoshiki Kaneko, President and CEO of JCB International Co., Ltd, expressed his enthusiasm for the partnership: "This is a great chance for us to promote exciting travel experiences to Saudi for our cardmembers. Like Japan, Saudi is a truly unique destination, with fascinating nature, culture and history."
He added, "We've been working closely with the leading local banks in Saudi such as SNB, Alinma Bank, Riyad Bank, ANB, and Bank Al Jazira on merchant and ATM enablement to ensure JCB's 154 million card members enjoy a seamless experience in Saudi."
This partnership signifies an important step in enhancing tourism, facilitating travel, and fostering greater cultural exchange between Saudi and Japan.
About Saudi Tourism Authority
Saudi Tourism Authority (STA), launched in June 2020, is responsible for marketing Saudi's tourism destinations worldwide and developing the destination's offering through programs, packages and business support. Its mandate includes developing the country's unique assets and destinations, hosting and participating in industry events, and promoting Saudi's destination brand locally and overseas. STA operates 16 representative offices around the world, serving 38 countries. Find out more about Saudi's tourism offerings on the Visit Saudi website. https://www.visitsaudi.com/
About JCB
JCB is a major global payment brand and a leading credit card issuer and acquirer in Japan. JCB launched its card business in Japan in 1961 and began expanding worldwide in 1981. Its acceptance network includes about 43 million merchants around the world. JCB Cards are issued mainly in Asian countries and territories, with more than 154 million cardmembers. As part of its international growth strategy, JCB has formed alliances with hundreds of leading banks and financial institutions globally to increase its merchant coverage and cardmember base. As a comprehensive payment solution provider, JCB commits to providing responsive and high-quality service and products to all customers worldwide. For more information, please visit: www.global.jcb/en/
Contact
JCB Co., Ltd:
Ayaka Nakajima
Corporate Communications
Tel: +81-3-5778-8353
Email: jcb-pr@info.jcb.co.jp
Copyright 2023 JCN Newswire via SeaPRwire.com.