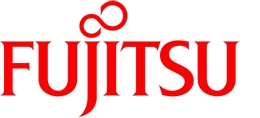 Lausanne, Switzerland, and Tokyo, Japan, Oct 6, 2023 – (JCN Newswire via SeaPRwire.com) – Fujitsu Limited and the International Gymnastics Federation (FIG) today marked a major milestone in their ongoing collaboration with the successful completion of joint development and the official introduction of the Judging Support System (JSS) for all 10 apparatuses (1) in competition at the 52nd Artistic Gymnastics World Championships in Antwerp, Belgium, held from September 30th to October 8th 2023.
Fujitsu and FIG have replaced the previous JSS approach, which relied on sensors, with an advanced AI solution that uses camera-based image analysis to achieve greater fairness, accuracy, and comprehensive judging support to optimize support for the evaluation of performances. By utilizing Fujitsu's unique AI technologies, the system delivers substantial improvements in processing speed, allowing judges to analyze gymnasts' performances with unprecedented precision and detail with the ability to capture the complex movements of gymnasts in near real-time.
The introduction of the completed system for competition coincides with Fujitsu's plans to launch its Human Motion Analytics platform in April 2024 to aid in the training of gymnasts as part of its vision for Fujitsu Uvance, which delivers innovative solutions that address business challenges and solve societal issues. The new solution integrates the advanced AI technology and image analysis know-how gathered through the JSS project to address a wide range of customer challenges in industries including healthcare, retail, manufacturing, and entertainment.
Official launch of AI-powered Judging Support System marks major milestone in years-long collaboration
In recent years, the skills of gymnasts have become more complex and sophisticated in line with the evolution of athletes' training and gymnastics equipment. FIG and Fujitsu have been developing the JSS since 2017 to further improve the integrity of the sport by resolving challenges in judging and ensuring fairness and transparency in evaluating performances. Since 2019, they have been developing the system's use in FIG competitions, including the Artistic Gymnastics World Championships.
The Judging Support System will be available for the FIG member federations to be used as part of their training programs providing an assessment of athlete ability and mastery of elements during training periods. FIG and Fujitsu will also work together on a global basis to provide TV broadcasters with analytics and visual enhancement contents based on data generated by the system and engaging content for viewers worldwide. Feedback from the JSS will be incorporated into future FIG guidelines to assist judges in their evaluations.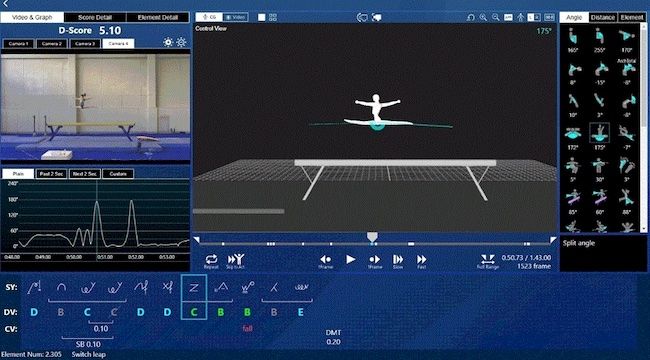 Appendix: Human Motion AnalyticsOverview/Features
Fujitsu's Human Motion Analytics (HMA) is a data analysis platform based on the world's most advanced high-precision posture recognition technology developed through the Judging Support System adopted by FIG. The technology uses a unique correction algorithm that greatly reduces the jitter (estimation error) of posture recognition through deep learning technology, which has been a persistent challenge in image analysis. This makes it possible to generate large amounts of training data for various environments, taking into account factors like the brightness of the venue and the colors of the auditorium and equipment. The technology also features so-called 4-Dimension Capture technology, which analyzes human movement in four dimensions (three dimensions as well as time) and recognizes actions as a series of connected movements rather than a pose captured at any given moment. With these innovations, even complex and fast movements such as those seen in gymnastics can be consistently identified with high accuracy.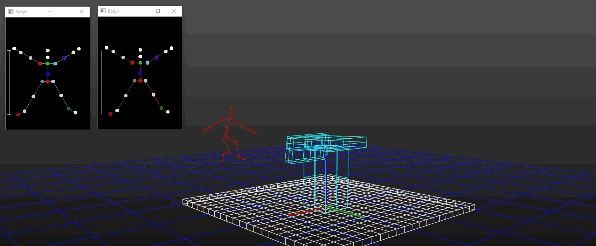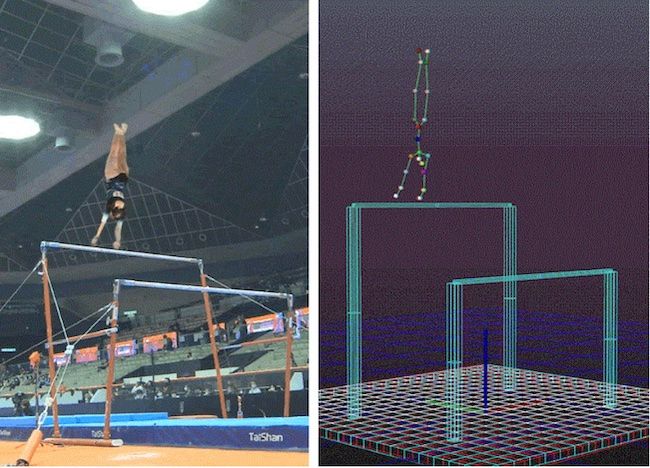 Fujitsu has independently defined over 100 basic motions to enable rapid delivery of these technologies to various manufacturing and retail sites.
Ultimately, Fujitsu envisions that the technology developed for HMA will not only contribute to the optimization of various fields, but will eventually empower its users to help solve societal challenges through creativity and innovation.
Growing possibilities with real world use cases
Beyond possible applications in the field of sports, HMA offers potential use cases in areas as varied as entertainment, the development of preventive medicine and exercise rehabilitation therapy in the field of healthcare, applications to improve the customer service experience in the retail sector, and improvement of on the job training and skill-sharing, as well as safety for workers in the manufacturing sector.
Application Examples
Entertainment Realization of new video experiences using 3D data from athletes, improvement of movement in form evaluation, possible utilization in game and animation production.
Healthcare Working with experts to visualize correct movements to develop preventive care and exercise therapy and to support users to continue exercise.
Retail & Manufacturing Using ergonomics and other video analysis to enhance safety and reduce burden on workers, and to enhance training and skill-sharing for workers.
[1]All 10 apparatuses :Pommel Horse, Still Rings, Men's Vault and Women's Vault, Balance Beam, Horizontal Bar, Uneven Bars, Parallel Bars, Men's Floor Exercise, and Women's Floor Exercise.Related Links Fujitsu's Judging Support SystemFujitsu UvancePresentation material of FIG and Fujitsu joint press conference
Held on Oct. 5th 2023, 18:00 (CET) at Antwerp, Belgium
About the FIG
The International Gymnastics Federation is the governing body for Gymnastics worldwide. It is the oldest established international federation of an Olympic sport, and has participated in the Olympic Games since their revival in 1896. The FIG governs eight sports: Gymnastics for All; Men's and Women's Artistic Gymnastics; Rhythmic Gymnastics; Trampoline Gymnastics (including Double Mini-trampoline and Tumbling); Aerobic Gymnastics; Acrobatic Gymnastics, and Parkour. It counts 162 national federations as members and has its headquarters in the Olympic Capital of Lausanne (SUI).
About Fujitsu
Fujitsu's purpose is to make the world more sustainable by building trust in society through innovation. As the digital transformation partner of choice for customers in over 100 countries, our 124,000 employees work to resolve some of the greatest challenges facing humanity. Our range of services and solutions draw on five key technologies: Computing, Networks, AI, Data & Security, and Converging Technologies, which we bring together to deliver sustainability transformation. Fujitsu Limited (TSE:6702) reported consolidated revenues of 3.7 trillion yen (US$28 billion) for the fiscal year ended March 31, 2023 and remains the top digital services company in Japan by market share. Find out more: www.fujitsu.com.
Press Contacts:
The International Gymnastics Federation (FIG)
FIG Media & Communications Department
E-mail: mediafig@fig-gymnastics.org
Phone: +41 21 321 55 10
Fujitsu Limited
Public and Investor Relations Division
Inquiries
Copyright 2023 JCN Newswire via SeaPRwire.com.